Mazda AWD Vehicles a Solid Choice for Slick Conditions
In many parts of the country, winter driving can be troublesome. Having a vehicle that performs well on slippery snow-covered roads provides not only peace of mind but also an increased level of safety.
Mazda has upped the ante on safety in many realms the past couple of years, including all-wheel-drive in their crossover vehicles. Their 2016 CX-5 comes with both 4-wheel drive and all-wheel drive in their automatic transmission vehicles. The Mazda CX-3 and CX-9 both come available with Front-Wheel Drive or AWD.
 What is 4-Wheel Drive (4WD)?
Four-wheel drive means that maximum torque is distributed evenly to each wheel. Because the power is evenly distributed to each wheel, the wheels all turn at the same speed.
4WD has its advantages and disadvantages, leading to the modern system most cars have that allows a driver to turn the setting on or off. While 4WD can really help a vehicle's traction and forward motion in certain conditions, such as mud or snow, it can also add weight to a vehicle reducing the fuel economy. It's also unnecessary in normal driving conditions and can even hold a vehicle back at higher speeds.
What is All-Wheel Drive (AWD)?
A newer innovation than 4WD, AWD addresses some of the limitations of 4WD and improves upon them. AWD is a system drivers don't need to be manually turned on or off.
AWD sends power to each individual wheel instead of all four wheels evenly. This allows the wheels to act autonomously instead of as a complete system and is safer to use during normal driving conditions. It also allows the power to be split amongst the wheels with the most traction to ensure more control in slippery driving conditions.
AWD is not as good for off-roading as 4WD, and it does add weight and complexity to vehicles, reducing fuel economy. However, AWD can be used all the time, provides better control and traction under all road conditions, and gives better handling and traction to a large variety of vehicles.
An advanced driving aid is nice to have when you need it, and anything that can help when winter or wet weather hits is usually welcomed by drivers. However, unless you live in a climate where winter weather can affect the roads, 4WD and AWD is an unnecessary driving tool unless your hobbies include off-roading.
Buying versus Leasing Cars

When it comes to getting a new car there are a lot of decisions to make. When making a purchase as large as a new vehicle, it's wise to do plenty of research to make sure you get the best price you can for the best vehicle for you and the best financing choices available.

One of the biggest choices people need to make when it comes to the financial portion of new vehicle sales is if the buyer would prefer to buy the vehicle outright, or sign on to lease the vehicle. Some auto financial experts say there isn't much of a difference financially, that it's more of a lifestyle choice. However, that only applies to certain circumstances, and it's really a good idea to look into both choices depending on what works best for your personal lifestyle and financial situation.

When evaluating what your final price would be for the vehicle, whether you were to purchase or lease, the first thing you need to consider is how long you plan to keep the car. If you are looking for a short-term vehicle that will not be driven many miles then a lease is probably for you. If you are a person who keeps their cars longer periods of time (five or ten years, or longer), or if you drive higher than average miles, purchasing the vehicle may be a better choice.
Digging deeper, you must also consider the costs that will be associated with driving this vehicle. Typical expenses include:


Maintenance
Insurance
Taxes
Down payment
Monthly payments

All of these will add to the sticker price you will actually pay for purchase or lease of the vehicle. Unless you are buying a car outright and don't need any financing, in which case you may not have to make the decision to lease or purchase. But, if you have to make this decision be sure to include these added expenses into your plan.

One consumer advice expert analyzed the cost difference between leasing and purchasing, including all the outside factors one should consider, and came up with the following answers. Evaluating the cost difference between leasing and purchasing a vehicle, after a 5-year period of owning/leasing this vehicle, the cost of owning the car was about $250 higher than leasing the same vehicle under the same set of circumstances.

However, using this same experiment's parameters, but using a 10-year period of owning versus leasing this same vehicle, the cost differential has increased to an amazing margin of costing $21,000 more to lease the vehicle than to purchase it. Because a leased vehicle requires monthly payments, whereas payments eventually end on a purchased vehicle, long-term leasing isn't the best financial decision.

So, if the cost is nearly the same when talking about a 5-year plan, what other things should you be thinking about?
 
Advantages of Leasing

Lower down payments can be gotten just by asking in most cases. Keep in mind, the less you pay up front will mean larger monthly payments.

Lower monthly payments than a new vehicle will be needed because you are not paying the full value of the vehicle, but rather only the depreciation value on the vehicle.

You can easily get a new vehicle every few years, depending on the length of the lease. It's easy to trade your lease for another vehicle when you don't have to haggle over the trade-in value of a lease.

Disadvantages of Leasing

You will have no equity and no property after the lease is finished. When your lease is up you have to make a decision what to do next because you will have to give this leased vehicle back to the dealer.

If, for any reason, you decide you want to be done with this vehicle before the agreed-upon lease period is up, you will pay a large penalty for breaking the lease agreement. There is very little flexibility in leases.

Extra miles equal extra fees. If you drive over the allotted amount on the lease, you will pay an extra fee per mile over your limit. You will also pay for any abnormal wear and tear the vehicle has encountered during your lease.

So, if you can't afford to purchase a car outright, depending on your lifestyle, you could consider leasing a vehicle. There are pros and cons to this decision, as there are in most decisions in life. If leasing fits with your way of life, it at least offers an alternative that some people may not have otherwise considered.

Interior Exterior Auto Detailing
A clean car is a happy car, and it also reflects on you as an owner. Take pride in keeping your car clean inside and out, and people will notice. One step above just washing your car is getting it detailed. Detailing isn't just an interior cleaning, detailing can be an exterior concept as well; and you might be surprised what goes in to detailing a vehicle.
Interior
Detailing a car's interior means paying attention to all the cracks, crevices and fabrics inside your vehicle. An easy place to start is by removing the floor mats. Vacuum the mats, floor of the vehicle (front and back, moving the seats forward and back to reach all the carpet), upholstery, rear parcel shelf, dashboard and trunk.
If your carpet or upholstery has any stains, using a foam cleanser and rubbing it in with a damp cloth or sponge should get rid of them. Make sure you allow the cleanser to set in for a few minutes before scrubbing the spot. Repeat as many times as needed to clean the spots. Make sure to wipe up the cleanser with a damp (not soaking wet) sponge and do a final blotting with a dry towel to get all the wetness from the fabric and carpet as possible. Leaving your fabric and carpet damp may cause mold and mildew.
While your floor mats are out, spray them down to get all the sand and dirt off, and then dry them before putting them back in the car.
After you've cleaned the dash there are still probably places you can't easily get the dust out of. Using a can of compressed air should help blast that dust out of hard-to-reach places in the dash, doors, and other places around the car.
Wipe down all interior hard surfaces with an all-purpose cleaner. Use a super-absorbent (for dust) detailing brush on your air vent grilles.
For cloth seats, shampoo them with a wet-vac, making sure they are plenty dry afterward. Leather or vinyl seats can be cleaned with a special cleaner and wiped away with a microfiber cloth. Condition your cleaned leather seats so the leather looks shiny and doesn't dry out or crack.
Finally, spray glass cleaner on your interior windows and windshield and wipe off with a microfiber or lint-free cloth.
Exterior
Starting with the tires, spray the rims with a degreaser or wheel cleaner. Leave on for a few minutes before scrubbing off with a stiff-bristled brush. Repeat as necessary. Wash the tires with a whitewall tire cleaner and let it soak in for a nice glossy finish.
When washing your car by hand, use a car wash soap, not dish or laundry detergent. Using a microfiber cloth or towel will trap the dirt and grime without leaving scraps of lint behind. Start with the top of your car and work down. Work quickly so the soap does not have time to dry on the car's surface. After rinsing off with a hose, make sure to dry the car thoroughly with a terry cloth towel or chamois, as air drying will cause soap spots to form. Clean the exterior windows with glass cleaner.
One special product used in detailing the exterior of a vehicle is detailing clay. This is a bar of an engineered resin compound that looks similar to a bar of soap, and it's used to remove contaminants from the surface of a vehicle's paint, glass, fiberglass and metal. This bar of clay can be natural or synthetic. Most manufacturers prefer synthetic clays.
Detailing clay is a very elastic type of clay, offering enhanced durability as it is used to detail, being rolled, flattened, smashed and stretched repeatedly during the detailing process. In addition, this clay is designed to repel the kind of contaminants regular clay doesn't deal with; such as industrial fallout, rail and brake dust, and other pollutants your vehicle comes in contact with. These things can scratch and pierce paint finishes, as well as glass and metal, and they can remain stuck on your vehicle even through rain, car washes and hand polishing. However, with the use of detailing clay you can eliminate these unwanted blemish-causers.
There are a lot of components in getting your car into shape. However, keeping your car in top maintenance will not only prolong its lifetime, but will also help its resale value when you're ready to trade up.
Top 5 Mazda Technologies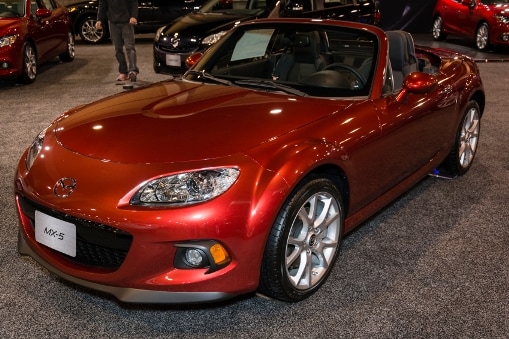 Consumer Reports Magazine in February 2015  named Mazda North American Operations the  second  highest- ranked automotive brand in North America,  second only to the luxury brand Lexus. Does this  surprise you? It shouldn't!
Mazda's innovation with new technologies, reliability and road test scores rank very highly, with the standout models including the compact Mazda3, midsize Mazda6, and the compact crossover Mazda CX-5.
One of the technologies that sets Mazda apart from the crowd is their SkyActiv technology. The SkyActiv practice embodies Mazda's technological strategy for the future. In fact they do not plan to do any vehicle electrification, but will seek out efficiencies in other ways.
Mazda has stated they do not plan to enter the hybrid or electric vehicle market, but with SkyActiv they do plan to find a way to affect how everything in a car works to be more environmentally conscious and gain better fuel economy.
SkyActiv focuses on more fuel-efficient, mileage-boosting engines; forging aerodynamic design improvements; building lighter-weight vehicles; and lastly, making their transmissions more efficient.
Another technology that Mazda is implementing is one that promotes safety. Mazda says their goal is an accident-free, safe automotive society. To this end they have created i-ACTIVSENSE, an umbrella term that encompasses a series of advanced safety technologies that include detection devices like cameras and milliwave radars, pre-crash technologies and ways to reduce the severity of a collision if one were to happen.
The third type of technology that Mazda employs will reduce CO2 emissions and introduce vehicles that run on alternative fuels. Mazda refers to this as Environmental Technology, and they are looking for new ways to help contribute to a sustainable future.
Some of the specific technologies falling under the Environmental Technology label include the i-ELOOP brake energy regeneration system that recaptures and reuses energy that would typically be lost during deceleration in an efficient manner; i-STOP idling stop technology that turns off the engine each time the vehicle stops; a hydrogen fueled vehicle; and advanced recycling technologies such as a program where old bumpers are turned into new bumpers.
Lastly, Mazda is implementing a connectivity system with safety at the forefront, which will enable drivers to safely enjoy the use of your smartphone while in your car. Mazda Connect features in-vehicle software that can be updated to accommodate evolving smartphone operating systems and additional functions that will never go out-of-date, as well as a flexible hardware structure with a module unit for each function that allows for flexibility in meeting a wide range of needs.
This connectivity isn't for strictly entertainment and social aspects, it also supports information and safety while driving, minimizes human distraction by voice recognition functions, and helps drivers to maintain stable driving and safety concentration while offering a variety of information.
Many of Mazda's vehicle lineup is new or redesigned within the past few years, these technologies help express Mazda's commitment to quality and innovation.  Journals such as Consumer Reports, report Mazda's performance and reliability - standing out in the crowded automotive industry.
The Mazda 2016 Lineup
Japanese automaker Mazda has been in business for nearly 50 years, and although their automotive line-up is smaller than many of their contemporaries, they seem poised to gain a terrific market share of sales in the coming years.
With just five vehicles on their 2016 roster, Mazda is focusing on bumping up technology, efficiency and safety on their most popular mainstay vehicles. With one legacy vehicle, the updated MX-5, Mazda has been developing what they call their new-generation product line-up for the past few years and consumers are starting to stand up and take notice.
MX-5 (Miata)
The flashiest 2016 Mazda model is the MX-5. This fourth-generation Mazda MX-5 is also known as the Mazda Roadster. This sleek sports car was originally launched 25 years ago and is still the lightweight, fun-to-drive sporty car it's always been with more evolution and maturity in its character.
This award-winning two-seat convertible has a passionate customer base who lauds its style, performance and spirited driving dynamics. This year's version is quicker, more nimble and smaller than its predecessor while also being more fuel efficient. More usable interior space fitting drivers of all sizes and technological advances including Bluetooth, manual transmission and LED headlights and tail lights are all standard. Further technological options include the i-ACTIVSENSE safety package. Upgrades are available.
Mazda6
It has been four years since Mazda launched the midsize sedan Mazda6 as the flagship model in their new-generation product lineup. All the updates that have gone into the 2016 model offer greater sophistication and value. In fact, the 2016 model has already been named as one of "Ward's 10 Best Interiors" among a field of 41 other vehicles of all types and price points with newly designed interiors. The more-for-your-money interior design also includes a redesigned center console and instrument panel that feels and looks state-of-the-art.
The Mazda6 has a variety of models that come with the MAZDA CONNECT™ features of infotainment technologies accessed through a touchscreen display. These features include Bluetooth® audio streaming and phone pairing, Sirius XM® radio, Bose® audio system, and Pandora®/Aha™/Stitcher™ radio.
Mazda3
Mazda's compact car, the Mazda3, is offering new pricing on their four- and five-door models for 2016 starting at an MSRP of well under $20,000. This low price includes standard premium features and available premium options that are rare among compact cars. Backup cameras are standard, as well as Mazda's own SKYACTIV technology, power windows and locks, A/C with pollen air filter and other features.
The Mazda3 comes in a variety of models including the sporty Mazda3 i Sport, the mid-level Mazda3 Touring, and the Mazda3 Grand Touring model. Each model has upgradable packages available and a choice of manual transmission or automatic, making for a large variety of four- and five-door options in the Mazda3 lineup.
Mazda CX-3
Mazda offers two crossover vehicles; the CX-3 is the smaller one and is debuting in 2016. Classified as a compact crossover SUV, this is the fifth model Mazda has unveiled in their line of new-generation vehicles featuring the KODO-Soul of Motion design and full range of SKYACTIV Technology. The CX-3 is packed with Mazda standards like responsive driving, customers' ease-of-use, and a design created with overwhelming quality and style.
Mazda CX-5
The Mazda CX-5 is the big brother to the new CX-3, yet smaller than the discontinued CX-7 and CX-9, making the CX-5 a popular crossover SUV size. Since its launch in 2012, Mazda has continually made steady refinements aimed to deliver greater sophistication and value for their customers. This year's improvements include upgrades to safety performance, ride comfort and quietness, interior quality and functionality as well as design maturity.
With their 2016 lineup of cars, it seems as if Mazda's overarching theme is maturity, safety and over-delivering on quality expectations. And if they keep going in the direction their sales have been headed, they are sure to carve out a larger market share this year.
Contact Us
JUNGE CEDAR RAPIDS
1510 Collins Road NE
Cedar Rapids, IA 52402

Sales: (319) 393-6500

JUNGE CENTER POINT
1001 Ford Lane
Center Point, IA 52213

Sales: (319) 849-2022