Consumer Reports Magazine in February 2015 named Mazda North American Operations the second-highest-ranked a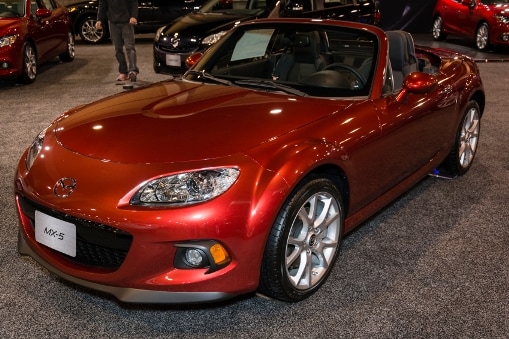 utomotive brand in North America, second only to the luxury brand Lexus. Does this surprise you? It shouldn't!
Mazda's innovation with new technologies, reliability and road test scores rank very highly, with the standout models including the compact Mazda3, midsize Mazda6, and the compact crossover Mazda CX-5.
One of the technologies that sets Mazda apart from the crowd is their SkyActiv technology. The SkyActiv practice embodies Mazda's technological strategy for the future. In fact they do not plan to do any vehicle electrification, but will seek out efficiencies in other ways.
Mazda has stated they do not plan to enter the hybrid or electric vehicle market, but with SkyActiv they do plan to find a way to affect how everything in a car works to be more environmentally conscious and gain better fuel economy.
SkyActiv focuses on more fuel-efficient, mileage-boosting engines; forging aerodynamic design improvements; building lighter-weight vehicles; and lastly, making their transmissions more efficient.
Another technology that Mazda is implementing is one that promotes safety. Mazda says their goal is an accident-free, safe automotive society. To this end they have created i-ACTIVSENSE, an umbrella term that encompasses a series of advanced safety technologies that include detection devices like cameras and milliwave radars, pre-crash technologies and ways to reduce the severity of a collision if one were to happen.
The third type of technology that Mazda employs will reduce CO2 emissions and introduce vehicles that run on alternative fuels. Mazda refers to this as Environmental Technology, and they are looking for new ways to help contribute to a sustainable future.
Some of the specific technologies falling under the Environmental Technology label include the i-ELOOP brake energy regeneration system that recaptures and reuses energy that would typically be lost during deceleration in an efficient manner; i-STOP idling stop technology that turns off the engine each time the vehicle stops; a hydrogen fueled vehicle; and advanced recycling technologies such as a program where old bumpers are turned into new bumpers.
Lastly, Mazda is implementing a connectivity system with safety at the forefront, which will enable drivers to safely enjoy the use of your smartphone while in your car. Mazda Connect features in-vehicle software that can be updated to accommodate evolving smartphone operating systems and additional functions that will never go out-of-date, as well as a flexible hardware structure with a module unit for each function that allows for flexibility in meeting a wide range of needs.
This connectivity isn't for strictly entertainment and social aspects, it also supports information and safety while driving, minimizes human distraction by voice recognition functions, and helps drivers to maintain stable driving and safety concentration while offering a variety of information.
Many of Mazda's vehicle lineup is new or redesigned within the past few years, these technologies help express Mazda's commitment to quality and innovation. Journals such as Consumer Reports, report Mazda's performance and reliability - standing out in the crowded automotive industry.